Welcome to WAVE South Canterbury
WAVE stands for "Well-being and Vitality in Education". The wording of the name illustrates the link between health and education.
WAVE is a framework for intersectoral work aimed at creating and supporting healthier environments for children and young people in South Canterbury.  [Read More]
This website features an online reservation system for resources available to education settings participating in WAVE.
**The WAVE Resource Centre has RE-OPENED**
VOICE 2022 Youth Arts Exhibition 
Te tapa whenua: naming the land
Kā Huru Manu
Healthy Food and Drink Toolkits for Early Learning Services and Schools
TE HĀ O AORAKI - THE BREATH OF AORAKI, South Canterbury Toothbrushing Programme
LINKS & DOWNLOADS
WAVE has introduced a new Links & Downloads section which is for kaiako to access various guides, toolkits, websites and programmes to assist your ECE and school in promoting healthy choices and lifestyles and to enable you to incorporate these programmes into your curriculum.

If you need further assistance or more information on these toolkits and programmes, please contact your WAVE Facilitator.

We have also included links as to where you can purchase some of our resources if you wish to do so.
LATEST NEWS
| | |
| --- | --- |
|   | WAVE in the media! |
| | WAVE Newsletter |
5+ A DAY CHALLENGE FOR EARLY CHILDHOOD & PRIMARY SCHOOLS
Check out previous challenges and entries!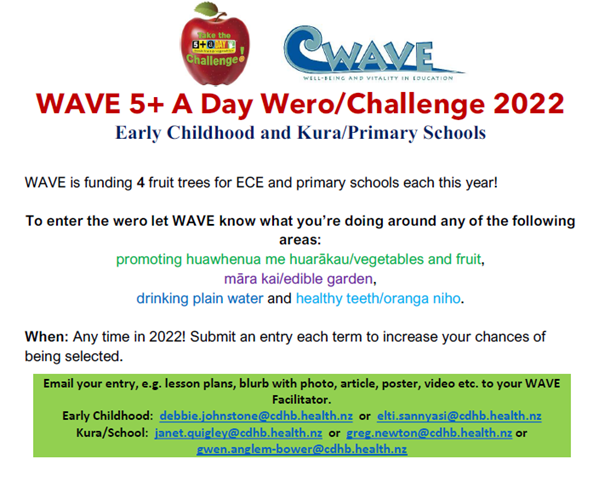 WAVE RESOURCE CENTER - CLOSED

The arrival of COVID has presented many challenges for both the education and health sectors and unfortunately WAVE hasn't been immune.  Our biggest challenge has been weighing up the risk of COVID spread associated with our interactions with education settings, and especially with our resources we loan through the WAVE Resource Centre.  We have experimented with cleaning processes between settings' use of resources but have had to reluctantly conclude that we cannot do this in a way that guarantees there is no risk of transmission of COVID.  After further consultation with a Public Health Doctor, we will not be re-opening our Resource Centre until there is substantial change to the COVID situation.  At this stage, that is likely to be once a significant proportion of the population has been vaccinated.

We are aware that some settings have already found creative ways to undertake alternate activities without WAVE Resources and our facilitators are certainly happy to help spread any good ideas.

We encourage you to visit our website where you can find:

an array of health and wellbeing resources, activities and ideas that can be downloaded
links to websites to support your health and wellbeing promotion and curriculum planning.

Our web-based resources can be accessed at any time: https://www.wavesouthcanterbury.co.nz/links-downloads/.

Please be reassured that our WAVE Facilitators and Health Promoters are still available for any support or advice, and when this situation changes, we will let you know.

Rose Orr, WAVE Team Leader
Neil Brosnahan, Regional Manager South Canterbury
Community & Public Health

18 December 2020
HOW WAVE HAS HELPED
Check out this video on how WAVE has helped and supported Rural Scholars ELC in their work with tamariki.
---